Yay for
iconfiend100
. 50 Aeris icons behind this fake cut, 50 more to go.
24)

59)
( Flowers for the Broken Spirit )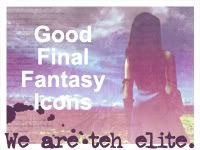 goodfficons
Don't take the elitest thing that seriously, just a bit of fun.
Come and check us out! Feel free to apply as well and join the best of the best (And if you don't make it, then work up your skills and try again later!) or add us to your friends list.